2013 National Jazz Band Honors Project
Download 2013 National Jazz Band Honors Project Registration Packet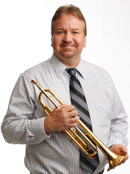 Rob Parton, is still considered to be one of Chicago's busiest and versatile trumpet players. Parton is well known and highly regarded as a studio/theatre/jazz musician, performer-educator and band-leader. Recently Parton accepted a position as Associate Professor of Trumpet at Capital University in Columbus Ohio.
As a jazz musician, Parton performed five nights a week for the past six years as featured artist at Chicago's Catch 35. The list of musicians who have played in the Rob Parton Trio is like a who's who in Chicago Jazz. Parton is enjoying spending more time with his family this year but looks forward to creating more opportunities and performances next year in the greater Columbus area in addition to engagements in the Chicago area with the Chicago Symphony Orchestra, Milwaukee SymphonyOrchestra and Grant Park Symphony on occasion.
As a studio musician, Parton has played on hundreds of both local and national radio and television commercials andmany local CD projects not only as lead trumpet but as contractor. Parton has performed with the Chicago Symphony, Milwaukee Symphony, Chicagoland Pops Orchestra, Doc Severinson, Tony Bennett, Frank Sinatra Jr., Mel Torme, Beach Boys, Christopher Cross, Sheena Easton, Peabo Bryson, Celine Dion, Nick Carter, Yolanda Adams, Josh Groban, Enrique Eglasius, Natalie Cole, Faith Hill, Carrie Underwood and Maynard Ferguson to name only a few. Parton has traveled with Natalie Cole and has most recently been a featured member of the Music Now series offered by the Chicago Symphony Orchestra.
As a theatre musician, Parton has played the national tours and local productions of Wicked, Full Monty, Sweet Charity, Music Man, Legally Blonde, Disney's High School Musical, Color Purple, Young Frankenstein, In the Heights, Mary Poppins, West Side Story and BillyElliot.
As an educator, Parton is Associate Professor of Trumpet at Capital University in Columbus Ohio. His duties include teaching trumpet, Jazz History, Jazz Combo's, Performing with the Capital Brass Quintet and the faculty Jazz group "Spectrum." This semester Parton is directing the Capital University Jazz Ensemble while Dr. Fischer is on sabbatical. When Parton is not working in Columbus or Chicago you will often find him directing an All-State jazz band or acting as a guest artist with many high school and college jazz programs throughout the country. He has presented concerts or clinics at the Midwest Clinic in Chicago, International Association of Jazz educators convention, MENC and many other music educators conventions.
In May of 2009, Parton made the decision to break up the long established JAZZTECH Big Band in order to regroup and begin the process of creating a new band with a different focus and personnel. Rob Parton has earned national and international accolades for his seven critically acclaimed compact discs' on the Sea Breeze Jazz label. Look for the first Rob Parton Big Band CD to be released late 2012!
Rob Parton is currently working with Fred Powell, Karl Hammond and the EK Blessing Corporation in addition to Yamaha.