2014 National Jazz Honors Project
Download 2014 National Jazz Band Honors Project Registration Packet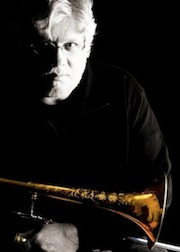 Steve Wiest
Multiple Grammy-nominated jazz artist Steve Wiest is known for his fresh cutting edge writing as well as his extroverted virtuoso trombone playing. His path to recognition began with a four-year stint as trombonist and composer with Maynard Ferguson. During this period Steve appeared on two Ferguson projects ("Storm" and "Live from San Francisco") a video project (The Playboy Jazz Festival) and penned a number of works for Maynard including "South 21st Shuffle".  His YouTube solo on Denis DiBlasio's arrangement of "Don't Stop" from this era has been described as one of the most exciting of it's kind on the Internet. On Ferguson's final CD "The One and Only" Wiest's arrangement of "Besame Mucho" was nominated for the Best Instrumental Arrangement Grammy at the 50th awards ceremony.
After leaving the Ferguson band in 1985, Wiest went on to complete a Master's in Jazz Studies at The University of North Texas. During his time at UNT in the 1980's, Steve wrote for and performed on seven different recordings with Neil Slater's One O'Clock Lab Band.
Upon leaving UNT, Steve began a long and accomplished career as a clinician-guest artist while becoming a regular with The Doc Severinsen Big Band. Working with greats such as Eugene "Snooky" Young, Conte Candoli and Ernie Watts on Doc's band during this period while continuing to write music for Maynard Ferguson helped to shape Wiest's future endeavors.
In 2006, Steve released his first recording as a leader; "Excalibur: The Steve Wiest Big Band" to critical acclaim. A unique modern jazz project for large ensemble,  "Excalibur" was described by jazz great Bob Mintzer:
"Steve's music is rich with color, textures, and lots of interesting twists and turns. Through utilizing his various influences on this project, Steve has really learned how to "spin a tale" musically. I very much enjoyed listening to each piece to see where it would go next. He managed to truly develop each idea to the fullest, to the point where it would spill over to the next section out of necessity. As a result of Steve producing this fine body of work, he has emerged as an articulate arranger and composer with a developing distinct voice of his own."
Wiest followed "Excalibur" up with a 2007 Grammy nomination for his arrangement of  "Besame Mucho" on Maynard Ferguson's final CD "The One and Only." 2008 saw the release of another critically acclaimed project titled: "Out of the New; The Steve Wiest Quintet" which featured nine jazz re-imaginings of modern pop tunes.
Joining the faculty at The University of North Texas in 2007 first as professor of jazz composition, then as director of the One O'Clock Lab Band, Steve has firmly established himself as an important voice in jazz education as well. During his first year as director of The One O'Clock, their recording  "Lab 2009" was Grammy-nominated for "Best Large Jazz Ensemble" and Wiest's original "Ice-Nine" garnered a nomination for "Best Instrumental Composition."
Steve Wiest's trombone (also called "Excalibur") was designed exclusively for him by Christan Griego of Edwards Instruments. Wiest also plays Griego Mouthpieces, specifically the Griego-Wiest SW model. Steve's compositions are published via Walrus Music, UNC Jazz Press, and Kendor.
Wiest's new science fiction novel The Dover Stone is now available on Amazon.com. This is the book that is the programmatic fuel for his new project "Concerto for Folded Space."
Continuing a diverse career as leader, guest artist, composer, cartoonist, author and educator, Steve Wiest makes his home with his family in North Texas, U.S.